Portinari Chapel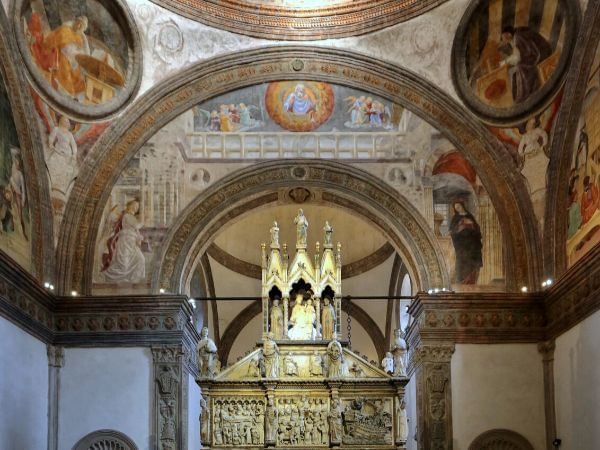 Painted in the 60s of the XV century, The Portinari Chapel is an obvious testimony of the Brunelleschi influence and the Renaissance style of Tuscan origins, grafted into Lombard culture. The chapel, commissioned by the Florentine entrepreneur Pigello Portinari, was initially intended for the burial of St. Peter Martyr, but afterwards it performed the function of a winter choir and from here we can see the reason for the presence of the musician angels on the drum of the dome.
The Chapel, with a main square-plan space and a small apse, is surmounted by a sixteen-section dome. The rich, sculptural terracotta decoration follows the trabeation, the archivolts and the window frames, which match perfectly with the magnificent frescoes by Vincenzo Foppa, dedicated to the life of Saint Peter Martyr.
Today, the centre of the chapel is occupied by the Ark of Saint Peter Martyr, by Giovanni di Balduccio, originally located in the basilica.