Gerardo Sacco
Jewels telling a story of a Master goldsmith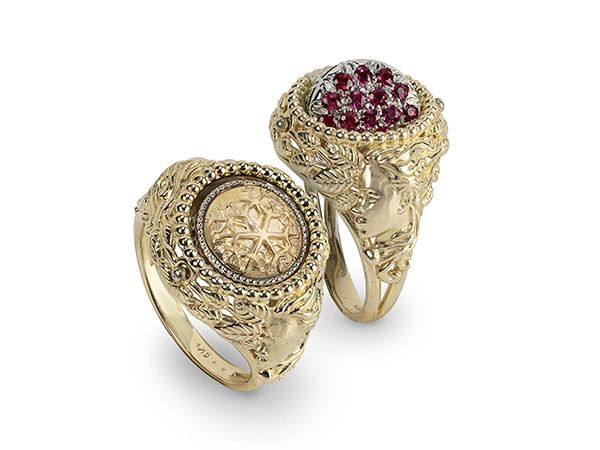 Gerardo Sacco's jewels are unique artefacts that encapsulate a timeless charm.
They blend the vision of the Master Goldsmith Gerardo with the tradition of the Mediterranean and specifically of Calabria region. The ingenuity of the Man and careful craftsmanship transform gold, silver and precious stones into unique shapes, characterising the design.
The boutique that Gerardo Sacco wanted in Via Manzoni, because of his deep connection with the Teatro alla Scala, showcases extraordinary jewels of fine Italian craftsmanship, telling stories in a contemporary interpretation.
MEDITERRANEAN INSPIRATION, REVERSE ORO – In the Reverse Oro ring, the plate rotates (patent pending) with a simple gesture, alternating on one side the hand-chiselled gold symbol of the month and on the other a pavé of precious stones that change according to the season. In winter, Rubini appear. The shank depicts the face of Demeter, the Greek goddess responsible for the course of the seasons. Each one of Gerardo Sacco's Jewels is accompanied by a certificate of guarantee attesting its characteristics, quality and authenticity.
For further information or booking, please contact:
Email: concierge@grandhoteletdemilan.it
Phone: +39 02723141
Or directly,
the Gerardo Sacco Boutique
Director Andrea Sacco
email: gs.milano@gerardosacco.com
Boutique Phone: +39 02 3952 2068
Mobile: 3533816711
Via Manzoni 16a