Chopard Caffè
The Maison Chopard inaugurates Chopard Caffè, a place of enchantment and beauty in the setting of the Grand Hotel et de Milan.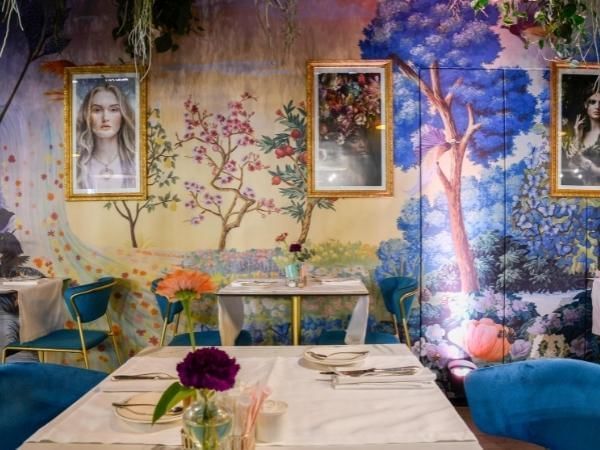 On the occasion of the opening of the new Chopard Boutique in Via Montenapoleone 25, the renowned Swiss Jewelery and Watchmaking Maison has chosen the elegant Caruso Restaurant of the Grand Hotel et de Milan to realize their temporary café.
In the heart of Milan, near Via Montenapoleone and the Boutique, the colorful "flowery sky" of the Chopard Caffè comes alive and the feeling is that of suspended time…
The elegant blue and gold furnishings stand out, framed by the scents and pink, fuchsia and purple hues of this unexpected blooming orchids, which continues along the walls covered by enchanting wallpaper.
Proceeding towards the internal room of the Restaurant, a new environment opens up, sober and soft-coloured, where the observer is guided to discover the history of the Maison through the images that stand out on the walls and tell the savoir-faire and passion, the dedication and art that make Chopard "the artisan of emotions since 1860".
A very elegant facade in brown and gold tones: the new Chopard Boutique is a precious tribute to the typical Milanese residence of the thirties and it is inspired by the works of three renowned architects: Gio Ponti, Giovanni Muzio and Piero Portaluppi. The Boutique is an environment characterized by special attention to detail and the use of various genres and materials: a real praise to local savoir-faire and craftsmanship.