Personalized Guerlain Experience
Live an exclusive experience at the Guerlain Boutique in Via Monte Napoleone in Milan.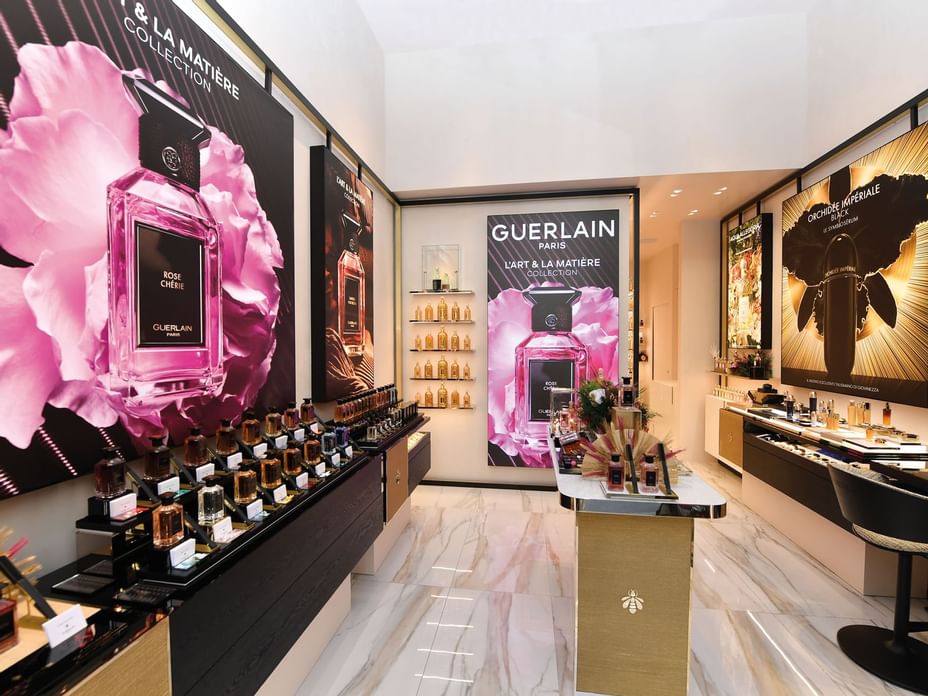 Enter the universe of the Maison and live a unique experience with services and exceptional products of the Boutique in Via Monte Napoleone 1 in Milan. The Guerlain beauty advisors will be glad to guide you through the personalized choice of the perfect Guerlain product for you.
PERSONALIZED OLFACTORY PATH
The Expert Parfumeur will guide you through the discovery of a magical universe of unique creations. Let yourself be conquered by the perfect fragrance for you among the wondeful olfactory masterpieces of the Maison.
EXEPTIONAL CREATIONS
Discover the exceptional Guerlain creations. Stunning fragrances enclosed in precious limited edition bottles. Let yourself be conquered by the must-have make up products of the Maison, from the latest news to the exceptional skincare treatments.
THE CUSTOMIZATION ATELIER
Inside the Montenapoleone Boutique, an exclusive engraving service will be available to make your Guerlain bottle an intimately personal creation in every detail or to embellish your Rouge G with a special message.
PERSONALIZED MAKE-UP CONSULTING
The Guerlain beauty specialist will reveal to you the make-up secrets to express your beauty and enhance it to the fullest.
GUERLAIN PRIVATE LOUNGE (available from July 18th)
A unique and reserved environment, accessible from a private entrance and located on the first floor of the Boutique in Via Monte Napoleone 1. An exclusive area dedicated to events and consulting, by appointment only.
Inside the Guerlain Private Lounge, you will have the chance to discover the exclusive Facial Suite, a luxurious, initmate and private casket, where to try facial skincare treatments of the Maison and to immerse yourself in a holistic multisensory experience that gives well-being to the body and mind.
An exclusive pampering embellished with the exceptional Abeille Royale treatment lines to repair and illuminate the skin with a new radiance and Orchidée Imperiale to immediately apper younger and more rested, meticulously applied by the Skincare Expert Guerlain.
Personalized skincare face treatments, from 60 to 90 minutes long, inspired by the tradition and values of the Maison Guerlain and realized with the Guerlain SPA techniques.
Don't miss the chance to discover the new exclusive Beauty High End Milanese destination!
For further information and booking, please contact our Concierge Walter Milia:
Email: concierge@grandhoteletdemilan.it
Phone: +39 02723141
Or directly,
the Guerlain Boutique in Via Monte Napoleone and the Store Manager Viviana Rossi:
Store Manager's email: vrossi@guerlain.fr
Store Manager's phone: +39 3385719996
Boutique email: montenapoleone@guelain.fr
Boutique phone: +39 0236522602
@guerlain | #GuerlainBoutiqueMilano